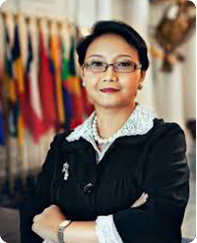 H.E. Mr. Le Hoai Trung, Deputy Foreign Minister of Viet Nam, Deputy Secretary General of ASEAN, Ambassadors, colleagues.
This morning we gather here to celebrate friendship, a strong bond of friendship that is built and developed since more than 60 years ago. Building a strong and sustainable friendship is a long investment. Friendship could not be built over night. Within this context, the friendship between our two founding fathers, President Soekarno of Indonesia and President Ho Chi Minh of Viet Nam has a very strategic meaning. The exchange of visit between our two leaders 60 years ago has a monumental meaning. It laid foundation to the strong bond and friendship between our two countries that goes until now.
Distinguished delegates, ladies and gentlemen, members of parliament. Viet Nam is a good friend of Indonesia. Both of us are members of ASEAN, next year Indonesia and Viet Nam will celebrate the 65th anniversary of diplomatic relations. Next year, Viet Nam and Indonesia will sit together as non-permanent members  of United Nations Security Council (UNSC). This is not first time, Indonesia and Viet Nam sit together at the UNSC because we had once in 2008. Therefore, I'm honored here to celebrate the friendship between Indonesia and Viet Nam, a long, strong bond of friendship that brings benefits to our two peoples. Of course, special thanks go to our Ibu Megawati Soekarno, the fifth President of Indonesia, who could not attend this gathering, for her strong support for this event. And congratulations to Arsip and Embassy of Viet Nam for a job well done in organizing the event.
Let me conclude my remarks with a quote from President Soekarno, which I believe capture the essence of this exhibition: "Never forget history, it is what changes and makes who we are." Thank you very much.