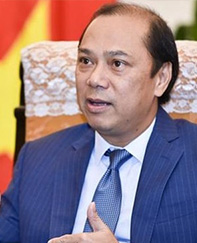 Excellency Mr. Mahendra Siregar, Deputy Foreign Minister of Indonesia,
Excellency Mr. Ibnu Hadi, Ambassador Extraordinary and Plenipotentiary of the Republic of Indonesia to Viet Nam,
Ladies and gentlemen,
The year 2020 holds great significance, marking the 65th anniversary of diplomatic relations between Viet Nam and Indonesia. On 30 December 1955, Indonesia became the first Southeast Asian country to establish official ties with Viet Nam. Over more than six decades, despite all ups and downs in the region and the world, Viet Nam and Indonesia remain close and loyal friends. Our relations continue to grow strong, with greater depth and effectiveness on both bilateral and multilateral grounds.
Thus, I highly appreciate the initiative of the Indonesian Embassy in Hanoi and the Diplomatic Academy of Viet Nam to co-host the Seminar on "65 years of Viet Nam – Indonesia relations: Looking back and moving forward." As showcased by the theme, this will be a forum for us to take stock of
our historic journey, assess opportunities and challenges, and the role of our two countries in the new context, and put forth directions to enhance political trust, align our strategic interests, and take our ties to greater heights befitting our Strategic Partnership.
Ladies and gentlemen,
As we celebrate the journey of the past 65 years, it would be amiss not to mention the close ties between President Ho Chi Minh and President Soekarno, two remarkable leaders and nation founders who laid an enduring foundation for the long-standing friendship between Viet Nam and Indonesia.
The relationship between President Ho Chi Minh and President Soekarno is not merely one between heads of state and eminent thinkers. Rather, it is the bond between close brothers and loyal friends. Such resonance between the two great men stemmed from the love for their respective countries and peoples, their shared ideals in the fight for independence and freedom for their nations, the building of strong and prosperous countries, and their common view on various matters of their time. In Viet Nam, we shall forever remember the words of President Ho Chi Minh: "Solidarity, solidarity, great solidarity."  Meanwhile, from its very first days, the Indonesian national motto has been "Bhinneka Tunggal Ika" (Unity in Diversity). Herein lies the similarity between our two nations. This is why Indonesia has always been one of Viet Nam's closest friends; our two countries share one of the most unique bonds throughout the ebb and flow of history.
Ladies and gentlemen,
The year 2003 marked the beginning of a new page in the excellent traditional friendship between Viet Nam and Indonesia. Our two countries signed the Declaration on a Framework of Friendly and Comprehensive Partnership Entering the 21st Century during the visit to Viet Nam by Madam Megawati Soekarnoputri, the first female President and the daughter of the late President Soekarno. This historic landmark set the ground for stronger bilateral cooperation across the board; it helped address the "bottlenecks" in our relations, including the signing of the Agreement on the Demarcation of the continental shelf in the overlapping waters between our two countries after 25 years of negotiation.
Given the strong growth in the bilateral relations, in June 2013, once again the two sides decided to upgrade relations to Strategic Partnership, making Viet Nam the only Strategic Partner of Indonesia in Southeast Asia. Ever since, our cooperation has grown increasingly stronger, deeper, broader and more comprehensive across all areas, both at the bilateral and multilateral framework.
Our countries enjoy robust political ties with a high level of trust. The frequency of exchanges and contacts is increasing at every level including the highest. This includes the historic first visit by General Secretary Nguyen Phu Trong to Indonesia in August 2017, followed by the first visit to Viet Nam by President Joko Widodo in September 2018. We are also advancing security and defense cooperation, contributing to the maintenance of peace and stability in the region. Since early this year, faced with the complex developments of the COVID-19 pandemic, the leaders of our countries have actively exchanged experience in combating the pandemic and discussed measures to promote trade and business recovery and ensure a return to stable daily life for the public in the post-pandemic period.
Economic cooperation is soaring. Bilateral trade turnover has grown from $3.3 billion in 2010 to $9.1 billion in 2019, approaching the target of 10 billion for 2020. Indonesia is one of the first countries to directly invest into Viet Nam, and now ranks 5th among ASEAN and 28th out of 130 countries and territories with investments in Viet Nam, boasting 74 projects worth $556 million. Connectivity cooperation is growing by leaps and bounds as many new flight routes have recently entered operation (Viet Nam Airlines operating the HCMC – Bali route, Vietjet Air operating HCMC/Hanoi – Bail routes). These further enhance tourism, people-to-people exchanges and cooperation among localities.
Viet Nam and Indonesia share many interests in promoting regional connectivity and international cooperation. Our two countries have been working closely and providing each other support at regional and international institutions and platforms such as the United Nations, ASEAN, WTO, APEC and ASEM. This has only become more prominent this year as Viet Nam assumes ASEAN Chairmanship and both countries are serving as non-permanent members of the UNSC. Viet Nam and Indonesia have both made positive contributions to the building of an ASEAN Community of solidarity and development, and are working closely together in regional security issues and in upholding the ASEAN Outlook on the Indo-Pacific, thus illustrating the leading role of ASEAN in the maintenance of peace, stability and cooperation in the region (including the South China Sea) and the world at large.
Ladies and gentlemen,
It is only natural that Viet Nam and Indonesia become partners, bound by our similar cultural and historical roots, comparable geostrategic locations, and shared regional and international interests. At the heart of our partnership is the foundation laid by President Ho Chi Minh and President Soekarno, and diligently cultivated by generations of leaders and peoples. There is enormous potential for cooperation between our countries, fueled by the ample internal power of each nation and the spirit of our time: an age of the flourishing 4th Industrial Revolution in a united and strong ASEAN community. Thus, Viet Nam and Indonesia need to deepen our excellent Strategic Partnership. At the Seminar today, I look forward to discussions on the ways and means to advance this Partnership.
I am confident that our efforts and determination, political trust and Strategic Partnership will certainly enable us to realize our respective development goals for 2045 and make commensurate contributions to a cohesive, responsive and prosperous ASEAN Community.
I wish the Seminar all success.
Thank you.