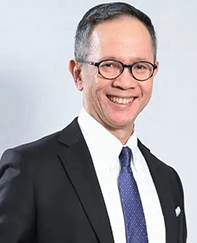 H.E. Mr. Nguyen Quoc Dung, Deputy Minister of Foreign Affairs of the Socialist Republic of Viet Nam;
H.E. Mr. Ibnu Hadi, Ambassador Extraordinary and Plenipotentiary of the Republic of Indonesia to Viet Nam;
Dr. Nguyen Hung Son, Vice President, Diplomatic Academy of Viet Nam;
Distinguished Speakers and Participants,
Ladies and Gentlemen,
Good morning.
I am very delighted to join you all in this seminar… to commemorate the 65th Indonesia and Viet Nam Diplomatic Relations.
Allow me to take this opportunity to convey my appreciation to the Indonesian Embassy in Hanoi… and the Vietnamese Government, especially the Diplomatic Academy of Viet Nam… for organizing this important initiative.
This seminar is a clear reflection of our unwavering commitments amidst the Covid-19 pandemic… to advance our two countries' cooperation… as well as contribute to the stability and peace in the region and globally.
As strategic partners in an ever-changing world, Indonesia is committed to continue working together with Viet Nam… in strengthening bilateral relations, in the areas of trade and investment, air connectivity, and concluding the EEZ negotiations, among others.
Colleagues,
Our trade and investment cooperation has shown good performance in recent years.
➔ Trade between Indonesia and Viet Nam demonstrated a positive trend from 2015- 2019… with the growth of 12%. The total trade in 2019 reached US $ 9 billion, or a 7.10% increase compared to its 2018 value of US $ 8.37 billion.
➔ Between January – August 2020, our bilateral trade value reached US $ 4.9 billion… or a decrease of 14.47% compared to the same period in 2019, valued at US$ 5.7 billion.
We are well aware that the pandemic could be the significant cause of this trend.
However, we need to look forward… and continue finding new opportunities to expand our trade relations… through innovation and creativity… in order for us to accomplish the target of trade volume to US$ 10 billion… outlined by the Plan of Action 2019-2023.
Colleagues,
Covid-19 has been infecting millions, claiming lives and at the same time affecting all aspects of life, day by day.
Against this new reality, Indonesia and Viet Nam have shown resilience… and both countries continue to maintain strong partnership.
For example…
Since the "Doi Moi (reform)" policy in 1986… Viet Nam has grown to become an emerging economy… with Indonesia as one of the earliest countries investing in Viet Nam. In recent years, Indonesia has been in the top 30 investors to Viet Nam.
➔ Indonesia's accumulated investment until July 2020 totaled 94 investment projects… with a value of US $ 590.64 million and ranks 28th.
With regard to air connectivity, Indonesia and Viet Nam have worked together to realize the direct flight route between the two countries.
➔ Today it is marked by the opening of two direct flights… from Ho Chi Minh City to Denpasar by Viet Jet Airlines in May 2019 and Viet Nam Airlines in October 2019.
➔ Since January 2020, Vietjet Airlines also served the Hanoi – Denpasar route.
➔ While these routes are momentarily suspended due to the pandemic… we still have homework to support the Indonesian airlines to also fly direct routes connecting the two countries.
Indonesia and Viet Nam are also working closely to accelerate the delimitation of the EEZ.
➔ I believe the conclusion of the EEZ delimitation would open numerous opportunities of cooperation particularly in developing the fisheries industry.
Colleagues,
Facing uncertainty and adapting to the challenges of the world ahead… we can promote several priority areas of cooperation.
Bilaterally, allow me to share my observation on a number of initiatives that can be done…
1. encouraging the expansion of cooperation in the fisheries sector, including renewing the MoU on Fisheries and encouraging investment in the fishing and
aquaculture industry;
2. encouraging various partnerships and opportunities that can be used by Indonesian and Viet Namese entrepreneurs;
3. taking approaches to addressing non-tariff problems in trade relations between the two countries;
4. promoting cooperation in creative economy, including joint promotions and sharing best practices in creating favorable ecosystem for the development of creative industry;
5. opening up more opportunities for our young generation by promoting students exchange and also joint research.
At the regional level, Indonesia and Viet Nam have played and should further enhance our role and contribution in ASEAN.
Last year, our two Foreign Ministers emphasized the need for ASEAN to continue advancing the issue of women, peace and security as one of the priorities of Viet Nam's chairmanship in 2020.
Moreover, the two countries are committed to strengthen ASEAN cooperation by among others… maintaining peace, security and stability in the region, including on the South China Sea issue.
In line with the joint commitment to support the economic acceleration of the two countries… Indonesia has followed up on the direction of the President of the Republic of Indonesia at the 36th ASEAN Summit… to form a Travel Corridor Arrangement (TCA) between ASEAN Member States.
In relation to the ASEAN TCA, Indonesia has compiled a scalable Concept Note according to health protocols starting with essential businesses and diplomatic / official trips.
➔ Concept notes are not legally-binding, and are expected to become guidelines to be applied together… in order to improve connectivity so that during the pandemic, business activities can continue and improve the wheels of the economy.
I believe in the spirit of friendship of collaboration… we would be able to achieve these targets.
Colleagues,
Finally, I wish that through this seminar… the high momentum of the commemoration of 65th Indonesia and Viet Nam Diplomatic Relations would bring us further opportunities… for both Indonesia and Viet Nam to further cement the good relations, as well as peace and stability in the region.
Thank you.