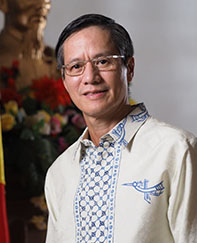 My warmest greetings to all Indonesian friends. May I wish you peace, joy and harmony during New Year.
The year 2020 holds great significance, marking the 65th anniversary of diplomatic relations between Viet Nam and Indonesia. Vietnam and Indonesia have many things in common. The similarity of culture, the history of struggle for independence, the idea of national resilience has brought the two nations together. We are also very proud that our traditional friendship is laid by the two great leaders and founding fathers – President Ho Chi Minh and President Soekarno. Over more than six decades, despite all upheavals in the region and the world, Viet Nam and Indonesia remain close and loyal friends. Our relations continue to grow strong, with greater depth and effectiveness in various fields such as politics, economics and cultural cooperation. Viet Nam has become the sole strategic partner of Indonesia in Southeast Asia whereas Indonesia has become a partner with a very special strategic position for Viet Nam. The two nations firmly stay side by side to support and assist each other to enhance our roles and positions not only in the region but also in the international fora like ASEAN and United Nations Security Council.
This year, the outbreak of Covid-19 has brought unprecedented socio-economic consequences affecting every country. We need action – to address these challenges. The world needs international cooperation. Indonesia and Vietnam, the two important nations of South East Asia, should work together. We are very glad to see that the governments of Viet Nam and Indonesia have made great efforts in fulfilling the dual goals of curbing epidemics and ensuring economic development. Vietnam's economy has been hurt by the pandemic but it has remained resilient and still is one of the most dynamic economies in the world with expected GDP growth of 2-3% in 2020. Indonesia has managed to control and mitigate the effects of the COVID-19 pandemic relatively well. With effort, Indonesia can emerge from the COVID-19 crisis stronger.
As New Year's coming at the door, I would like to wish you a very Happy New Year.
May the Strategic partnership between the two countries grow stronger, more effective and extensive!
Selamat Natal. Selamat Tahun Baru.
Thank you/ Terima Kasih